We first introduced Teaching for Student Success (TSS) in the winter 2020 issue of The Connected Professor. TSS was created as a convenient and comprehensive source of high-quality professional development produced by faculty and by technology specialists for faculty. Step-by-step instructions and videos of how faculty apply strategies are central to the approach, and downloadable handouts and worksheets guide others through applying concepts to practice.
Ultimately, TSS materials and information are designed to relate to the daily experiences of faculty. And, after the rollout of the Foundational teaching modules, it became clear that two new paths would be especially timely and valuable: one dedicated to Active Learning and the other to DEIJ-informed teaching and campus culture. As always, both paths bring together the expertise of educators, leaders, designers, and resource and technology specialists on all IU campuses.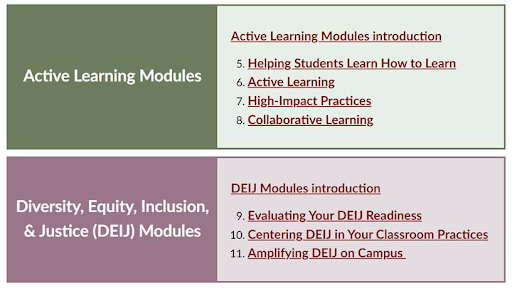 Building on what we've learned through efforts like IU's Mosaic Initiative, the active learning modules address day-to-day practices that help both instructors and students engage meaningfully in active learning classrooms. These modules cover a variety of contexts, from simple active learning strategies focused on reading, note-taking, and information literacy to high-impact educational practices and extensive collaborative projects.
The DEIJ modules engage us as faculty in reflective growth that empowers us to push our teaching practices in ways that benefit all learners regardless of background. These modules prepare us to spot potential inequities in a course, classroom, or more generally on campus, and to plan ways to take personal action to move our teaching, courses, and campus culture toward justice.
What can you expect in the modules?
Well-cited information on core concepts and a downloadable citations list
Reflection questions that ground evidence of development
Reality checks about faculty and student experiences
Teaching Showcases submitted by IU faculty and staff
Handouts and supplemental resources
Guided engagement to implement the evidence-based practices and document development 
Completion of implementable plans to integrate active learning and DEIJ into one's teaching philosophy, classroom, and departmental, school, and campus actions and communications
Moving beyond TSS, we have additional ways to extend work you complete in TSS. As you work through the modules, you may find that you have a teaching story to add to our Active Learning, DEIJ, or general collections on teaching.iu.edu. Please consider submitting your story for publication once it passes through our peer-review process. Additionally, you can document your DEIJ work in your annual report using the new diversity indicator in Digital Measures Activity Insight.
This series expansion continues collaboration among the Faculty Academy on Excellence in Teaching (FACET), the Office for Completion and Student Success, University Information Technology Services, and many faculty members and teaching center staff across IU to support student success through faculty development via evidence-based practices. Have suggestions about potential future areas of TSS development or expansion? Reach out to FACET.